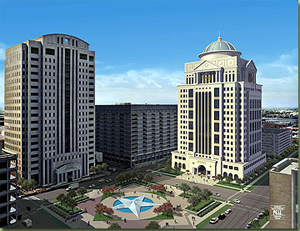 Return to J.P. Courts Homepage

Beginning January 2021, Supreme Court of Texas, the Office of Court Administration and the regional Administrative Judge have ordered all hearings and all trials in justice courts must be conducted virtually by Zoom. It is important that you check-in on or before your designated time to ensure your timely participation. Please make sure you are familiar with using Zoom technology and e-file or email file exhibits at least 3 business days before your hearing. Your cooperation during these difficult times is greatly appreciated.

Click HERE to see the Twenty Ninth Emergency Order Regarding the COVID-19 State of Disaster.

Court filings should reference a case number and may be filed through email at myjp12@jp.hctx.net or by E-File at www.efiletexas.gov or by regular mail.

Review the following YouTube links for assistance in how to join and navigate through a Zoom meeting:

https://youtu.be/hIkCmbvAHQQ
https://youtu.be/-s76QHshQnY

Traffic and criminal defendants can use the online payment option www.jp.hctx.net to perform the following:
Apply for a Driving Safety Course (if eligible);
Pay criminal citations/fines;
Pay Deferred Disposition costs; or
Make full or partial payments on judgements
Please call the court at 713-274-0600 if you have any questions.
Online Services


If you have a criminal or traffic case pending in this court and would like to communicate with the District Attorney's Office about your case(s), please send an email to the following address: JP1-2HCDA@dao.hctx.net.


Find Your Case and Court Date


Find Daily Dockets


Apply for Driver Safety Course


More Online Services
Contact the court for reset information
REMINDER: Courtroom Attire is Required - NO SHORTS OR TANK TOPS PERMITTED

Office Hours


Monday through Friday
8 a.m. to 5:00 p.m.
(except County Holidays)
Contact Our Court
Find Our Courthouse

Rules of Practice in Justice Courts
Harris County Local Rules
Self-Help Resources

Court Live Stream
Information for Jurors
Outstanding Bond Forfeiture Judgments

eFile Texas
Odyssey Web Portal

Harris County Homepage
About Judge Patronella

Harris County Justice of the Peace