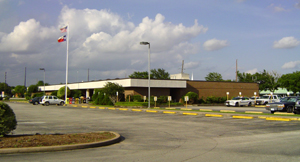 Public Notices from the Honorable Bob Wolfe, Precinct 5-2:
Justice Court 5-2 accepts filings, pleadings, and payments in person, and via our website and electronic filing. Criminal and civil case filings and pleadings may be filed in person or via eFiling: www.efiletexas.gov
All filings, motions and other documents to be considered by the Judge in all civil matters must be filed with the court at least three (3) days in advance of a court setting. Exceptions to this policy will only be made at the Judge's discretion in the event of an emergency.
Judge Wolfe's Civil Department will not accept new filings after 4 p.m. From 3:30 p.m. until 4 p.m., staff will accept no more than five (5) eviction filings per litigant.
Starting immediately, in addition to normally scheduled criminal dockets, a prosecutor will be now be available to handle pleas on certain criminal cases at a window in Suite 4 on Wednesdays from 8 a.m. until 1 p.m.
If you have a criminal or traffic case pending in this court and would like to communicate with the District Attorney's Office about your case(s), send an email to: JP5-2HCDA@dao.hctx.net
If a litigant has a legitimate need to appear in court via Zoom video, they must first seek permission from the Court. If granted, instructions can be found here.
Motions may be filed electronically, via the US Postal Service, by email myjp52@jp.hctx.net or in person. If appearing remotely, make sure any documents you wish to show the Judge have been filed at least three (3) weekdays before the hearing.
A drop-box is located just outside the Suite 4 doorway to deposit paperwork for the Court (Not the Tax Office).
The Court can be contacted via email at Myjp52@jp.hctx.net. If you are reaching out regarding a civil matter, email us at Myjp52civil@JP.hctx.net. If your inquiry or message is in regards to a criminal matter, email Myjp52@JP.hctx.net.

Sincerely,
Judge Bob Wolfe
Monitor the status of your criminal or civil case: https://jpodysseyportal.harriscountytx.gov/OdysseyPortalJP

Payments in person and through our website: www.jp.hctx.net